Paul Martin and Larisa live in England. He was 54 when he was diagnosed in August, 2012. His initial PSA was 6.20 ng/ml, his Gleason Score was 7a, and he was staged T3a. His choice of treatment was Surgery (Robotic Laparoscopic Prostatectomy). Here is his story.
AUGUST 2012---Pure chance, having none of the normal precursors of suspected PC, went to my GP complaining of feeling tired it would not be out of the norm for me to be in bed early evening and sleeping eight hours or so, my general appearance looking out of sorts. After the initial consultation it was deemed prudent to take a PSA test, at the time this meant nothing and thought nothing of it until horrors of horrors I was called back to the surgery as the result came back as 6.2 ng/ml. I was given the usual back passage examination and the doctor found the prostate of which she could reach lumpy, from this point on I cannot thank the NHS enough paper work was faxed to my local hospital (Basildon) I was in the evening having an MRI scan.
A few days later results came back as increasingly likely something was going on within the prostate, (sorry I have lost the notes to the actual terminology ) next up a biopsy was required to determine cancer or not, some three weeks later results where positive (again once I can find my notes I can update here)
Both left and right showing invasion of cancer cells and initial diagnostic of a T2 Gleason score 3+4 =7.
An appointment was arranged for the next step with the consultant as I had private health insurance I had a perfect opportunity to maximise my place and who for treatment choice by this time I had done a lot of research and I just said to the consultant that I want robotic surgery at Addenbrookes Hospital and that I want Professor David Neal an international renowned expert in PC and the DaVinci robotic technique.
I was admitted to hospital SEPTEMBER 2012 for robotic prostatectomy with nerve sparing, all went well with no pain management required and sent home next evening, catheter in place for ten days back to the hospital for removal and volume check of the bladder and make sure that I can pee the required amount all good so far.
LAB DIAGNOSES: pT3a specimen confined 3+4=7 Gleason-7 negative margins negative seminal vesicles.
What followed next was a complete surprise first PSA test OCTOBER 2012 came back at 0.02 excellent result, FEBRUARY 2013 PSA came back slightly higher 0.03 ( I always use the same lab for consistency ) mm I thought Professor Neal was not concerned, (I was of course as expected a level playing field of 0.01)
JUNE 2013 PSA elevated up to 0.13 conclusion biological recurrence, what the heck! I have no lymph node involvement negative margins, Professor Neal explained that I had a one centimetre nodule breaking out from the cover of the prostate and that because of this he had to remove one of the nerve bundles that was touching this LH side, so it appears it only takes one pesky cancer cell to escape and start growing.
AUGUST 2013 PSA 0.18 -- RADICAL RADIOTHERAPY TO THE PROSTATE BED -not worried soon kill off the pesky little buggers (my health by the way was excellent at this point with no incontinence and some 90% of erectile function available without any medication)
NOVEMBER 2013 PSA 0.11 NO RADIATION EFFECTS
FEBUARY 2014 PSA 0.06 all well and good keep to low carb high fibre diet, vitamin D, omega3, pomegranate Juice, broccoli, turmeric.
APRIL 2014 PSA 0.07, ok slight bounce no worries then to be expected.
AUGUST 2014 PSA 0.04, 4.5 kilometre walks most days keep on the diet not thinking about this pesky disease all positive running my own business so have something to work on and not worry about cancer.
OCTOBER 2014 PSA 0.1 -- OH DEAR NOT GOOD PROSTATE CANCER CELLS GROWING AGAIN NOT QUITE BEEN KILLED OFF BY RADIO THERAPY THEN!
FEBUARY 2015 PSA 0.12 -- some concern from me talking to the consultant, "not going to treat me just yet because of the side effects", all microscopic undetectable by normal measurements he says.
JUNE 2015 recent PSA test to be advised appointment with oncology.
A note to newly diagnosed patients and PSA all measurements is best carried out by using the super sensitive PSA; marker test BY THE SAME LAB for constancy if you had radical prostate surgery you should be at 0, Radio to the prostate you will have a measurement because in layman terms you still have a prostate producing PSA. Any rise after radical surgery can only be prostate cancer cells producing the enzyme hence an easy way to watch any progression through a simple blood test.
MY OWN THOUGHTS AND WHAT I THINK IS GOING ON: I believe I have micro metastatic prostate cancer cells growing somewhere, not at the prostate bed as this was radiated with precise measurements of where the T3A tumour was situated at which looking at the PSA; results kind of worked for a reduction of the PSA;, I will keep this page updated as I progress through the years,I was 54 years old at diagnoses now 57 years old and feeling good overall health is in good shape, and more importantly keeping positive on all fronts, started taking a new food supplement POMI-T worth a look up www.Pomi-T.com scientifically tested and developed here in the UK be interesting to see the PSA results! (radio therapy has effected erection function this month with a bit of leakage when coughing)
Regards Paul
24th JUNE 2015: PSA test come back at 0.27 up from 0.12 a PSA doubling time of 4 months, started taking PROMI-T four super foods packed into a capsual boosts the healthy polyphenois (Broccoli, Turmeric, Pomegranate, Green Tea) need to slow the rise of PSA.
Since my last update June 2015 PSA 0.27 I have progressed to a PSA level 0.7 (May 2016) this equates to a Doubling Time of 7.3 months, prognosis is reasonably good in that I am on AS with a view to treatment with ADT at the appropriate time, this may be a DT of 5 months or less. Apart from that no symptoms or sign of disease progression.
Just about a year on from my last update, still on active surveillance, with a PSA doubling time of 8.3 months with the last PSA test Nov 2016 coming in at 1.16, with no symptoms, the next visit to the oncologist March 2017. I do believe however that I do need to go into the attack whilst I have micro metises so I am going to ask to have my bollocks [British slang for "testicles"] removed, Testosterone the feeder of PCa cells, 95% removal within a couple of days. Don't fancy injections plus more side effects, not a cure but need to "buy" time before the inevitable happens and it's into the bone or elsewhere. Have to be realistic T3a tumours do not have happy outcomes a quick read through the stories here gives you an idea, so battle lines drawn diet in place, alcohol free, keeping fit let battle commence.
As of 15th March PSA has risen to 1.72 which gives me a doubling time of 8 months, on 9th of March I had a NM Bone whole body scan with results of NEGATIVE Mets, which at low PSA level was to be expected, showed hot spots of genetic wear and tear in hip, shoulder, knees, ankles wrists- reason for scan was pain LH hip.
So good news on the mets - according to Addenbrooks Treatment starts at level PSA10 and that would be the usual Hormone therapy. However my target is to extend the PSA doubling time, so going to go on the Cannabis oil treatment. Will post my chart and methods with PSA tests here. Will be interesting to see if the treatment is viable. Catch up three months time.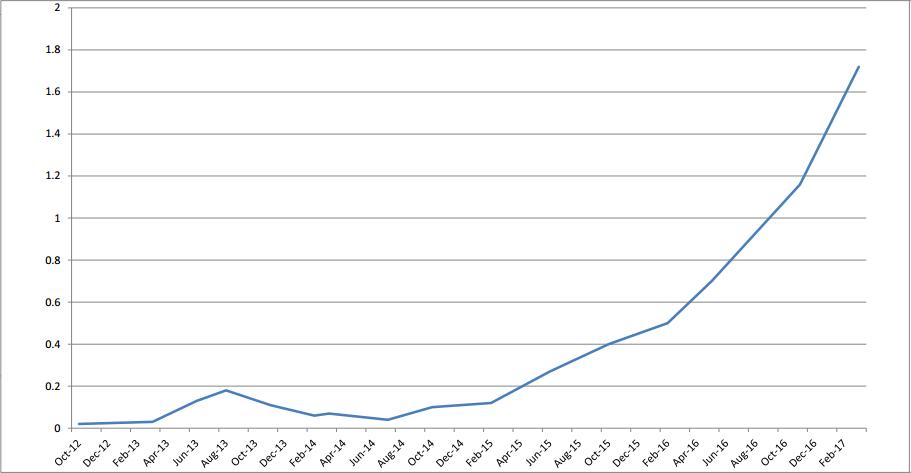 A big thank you to Mark Freedkin who kindly converted the PDF I submitted to JPEG of the PSA active surveillance since surgery to the present month /year. Previously I stated that instead of waiting around until the PSA reaches 10 to then treated with ADT, I intend to be pro-active as the goal here is to reduce PSA and consequently doubling time- Method: RSO Cannabis oil THC65 CBD65.
Searching the internet there seems to be a connection in using this Rick Simpson Oil to reducing tumours and in some cases get rid of the cancer all together. Dennis Hill was a T4 Prostate Cancer diagnosed and he says cured himself of this disease with clinical pathology to back up his claims, any way not for me to judge but considering "what have you got to lose" attitude. I will give it a go.
This brings me on to the chart the treatment will start with a PSA lab result of 1.72 calculated to be from Feb16 -Feb 17 7months DT, I will submit charts with PSA results going forward to see what can be achieved currently. I am tested every 3 months using the same lab for consistency, this I hope will give sufferers of this disease some sort of understanding, hope, "other treatments off the radar" a way of moving forward just for clarity. Surgery was 2012- relapse 2013 Radation -2014 PSA rising again to the present day of this submission.
Quick update on the "Pot Oil" treatment, having purchased 10ml of this concentrated Cannabis oil i am on 0.002 to start with as your body needs to get used to the THC effects, now after a bit of trial and error i have found a ratio of 20/1 coconut oil/cana oil works well inserted via the rectum this means you are able to process 70% rather than orally which is 20% as the liver comes into play and causes more of a high, the intention is to double up every two weeks to a final daily dose of 0.5ml THC1-1CBD. PSA RESULTS JUNE 2017.
CANNABIS OIL KILLS PROSTATE CANCER even STAGE4 worth a look guys nothing to loose have you!! story below Alan Park: July 20, 2014
"Hey there. I'm the real deal.
I enjoy a fantastic state of health since May after being written off in December by my expert, top notch prostate MD. Twit. ...
If they don't like the way I used it, they can shove it up their ass. That's what I did.
I took Rick Simpson oil, embedded it in coconut butter and shoved it where my clueless MD likes to put his finger.
Stuck it right to my prostate.
Good god, that stuff is more gooey than a rom-com.
Anyhow, no more cancer.
They can shove that up their ass too.
CANNABIS CURES CANCERS!
21 July 2014 ·
How Alan Park Cured His Cancer With Cannabis Oil
- Parts 1 - 6
(1:05:00)
Published on September 11, 2014
This is an interview with Alan Park, a comedian who you might know from the Air Farce on CBC, or from various televised comedy shows.
He cured his cancer using cannabis oil. No, really.
... his story is compelling and you should listen to the whole thing.
"He says you have a PSA, which is the Prostate Specific Antigen, this is the reading they get ya to see how you're doing ... and if you're at a 1 or 1 & 1/2 or 2, 2 & 1/2 or 3 ... if you're getting around 4, you want to look at that, there might be some preventative things you can do before it pops out of control.
And 5, 6, 7 on up to 10 ... oh boy, you're in trouble, things are not going well ... and he tells me:
'You have a 700.'
Whoa! Ha! I started laughing, every time I think about it now ... it's like if you went to the grocery store and rounded up all your stuff, at some health food store that's expensive, and they go: 'That's 4.3 trillion dollars.'
Ha-ha ... I better put the greens back, holy shit! ...
So what am I supposed to do with this?
700?
It sounds like a death sentence, it sounds like I died last week!
What are you talking about?!"
- Alan Park
Five months later, Alan's PSA was 1.19.
http://medicalmarijuana.co.uk/cannabis-and-prostate-cancer-the-stories-of-dusty-frank-and-alan-park/
After three months of being on the cannibis oil, the prostate cancer cells have a doubling time of just two months, you will see the leg up from 1.72 (March) to 3.56 (June) indicates a huge jump from my normal seven months. Conclusion using the oil has increased testosterone levels significantly and as we know Prostate Cancer cells use it to grow.
Bone scan shows no mets, CT scan booked next phase is CASODEX ADT. I'll post back on results going forward but outcome is terminal and I will live my life accordingly. This is being realistic as I am 59 years old and quite young for Prostate Cancer to take hold.
Added chart , CRT scan this week along with another PSA test, ADT next line of treatment, depending on result, cannabis oil undesirable side effect over three months a jump from 1.72 to 3.56 never had such a jump before as been steady since 2012.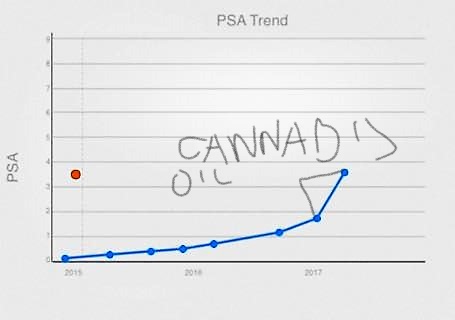 2nd of August- CT scan picked up enlarged Lymph Node -pelvis area. PSA 4.26 ng/ml good spot by the guys at Addinbrookes Hospital at this low level of PSA that last spike prompted the scan, as of this date started Bicalutamide (Casodex) 150mg. Prognosis five years give or take.
Great news, three months on ADT and down to post operation PSA level, in other words undetectable, what a result 150mg Casodex. Consultation 1st November.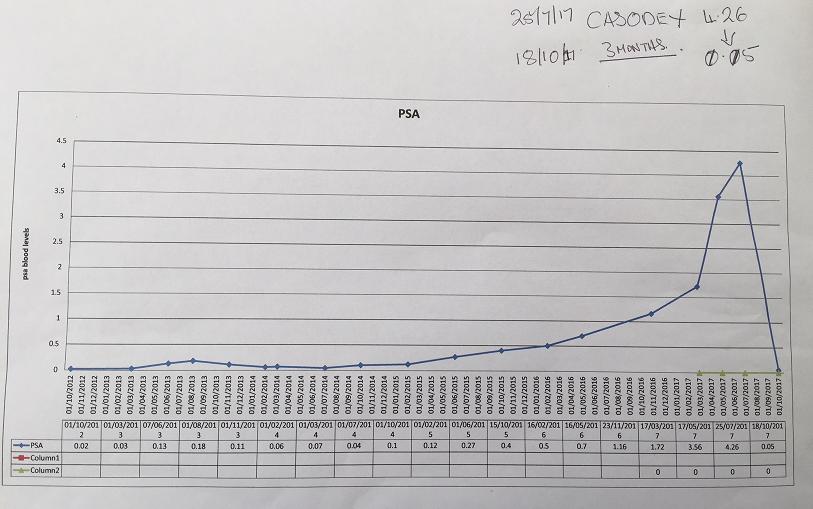 Paul's e-mail address is: paul AT belainteractive.co.uk (replace "AT" with "@")